Our experience taking our motorcycles on the Inside Passage Ferry to Anchorage in 2011 …
MV Kennicott is the pride of the Alaskan Marine Highway fleet and we joined 185 people heading up on the six day journey up the coast to Alaska from Bellingham.
The car deck was packed with shipping containers on trailers, RV's, camper trailers, big utes ('trucks'), cars and a handful of bikes.
The total number of passengers doesn't seem huge and there is always ample room in the ship to get away from the crowds. Our favourite spot (although it gets a bit popular) is sitting on the deck at the back of the ship. There's less wind, less crowds (they're all packed in the forward lounge waiting to see whales and other wildlife) and there are even a few chairs so you can kick your feet up, have a sneaky beer and enjoy the serenity.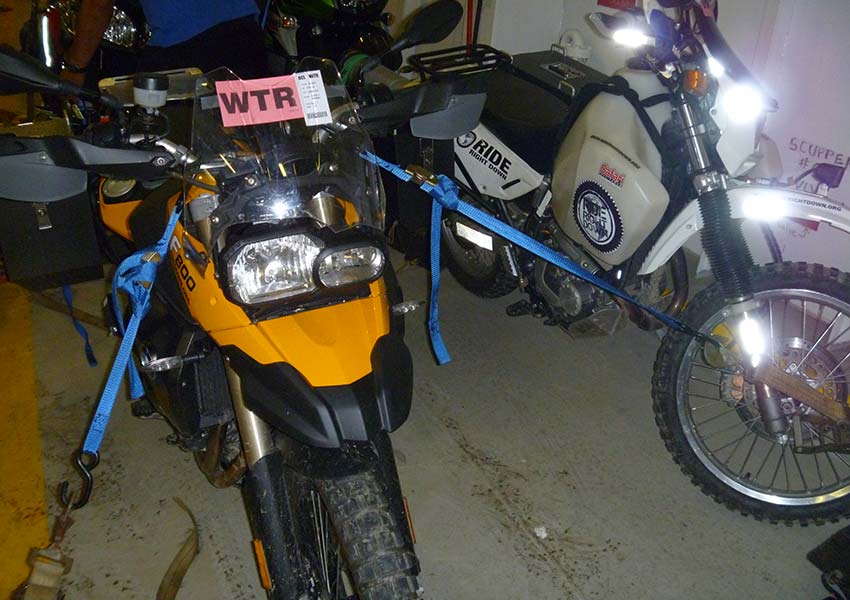 Quite a mix of people on the ferry – lots of American's from the lower 48 coming up for their summer holidays, Alaskans returning home to work for the summer, a handful of Australian tourists, a few backpackers, some motorcyclists and a crazy couple that were planning on riding their pushbikes from Prudhoe Bay to Ushuaia!
Not much to do on the boat except for catching up on writing this and enjoying the scenery and wildlife. The whole way along we've been seeing Humpback whales, Orcas, seals and what I'm pretty sure was a pod of porpoises. Set in a backdrop of relatively still (sometimes glassy) water and snowcapped mountains coming all the way down to the sea, it really is quite special. Even as I'm writing there's an announcement from the wheelhouse calling us over to check out a couple of whales breaching off our port.
On such a long journey its pretty easy to go a bit stir crazy and we're always thankful for the chance to get off for some shore leave when we dock at some of the ports. In Juneau we were even able to get our bikes off for a spin. It was such a lovely day to explore the capitol city of Alaska, which reportedly has around 270 days and around 4 metres of rain a year. It wasn't surprising (though a little sad) that as I was riding along I couldn't get 'Always take the weather with you' out of  my head. After heading into check out downtown Juneau, we set up the helmet cam and headed out to check out a glacier, before heading back and making the other bikers jealous they didn't ask to take their bikes out!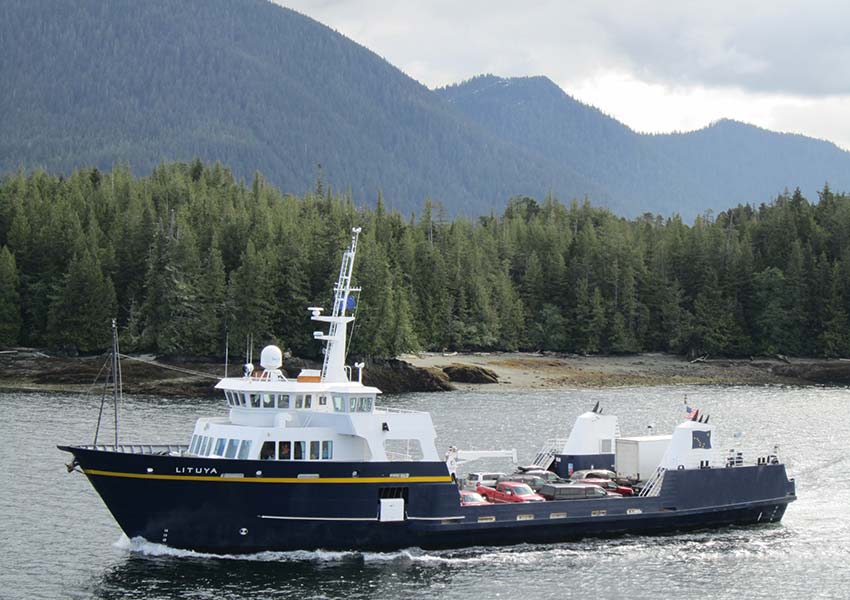 Top five tips for surviving long days on a ferry…
Bring a laptop – movies, work its all passes the hours
Go exploring – we found that out on deck at the back of the boat was one of the nicest spots to hang out. Out of the wind/weather and less crowds than the front viewing area.
Bring a book – you'll eventually get bored of everything else.
Take your time in everything you do. Have long meals and don't rush anything. The more time you spend doing these kinds of things, th faster the day will go.
Get off at every opportunity – Make the most of any shore leave. Ships are often in each port for a few hours so make the most of it. We were even able to get our bike off and ride around for a few hours one time.
Extra details about the ferry
Vessel: MV Kennicott
Cost: Around US$500 per person and $700 each for the bikes (total US$1200 without a room)
Departed: Bellingham, Washington State (Around one hour south of Vancouver) at 7:15pm on 4 June.
Arrived: Whittier, Alaska (around 90 mins south of Anchorage) at 08:00 on 9 June.
Total time: 112 hours (or there abouts) Stops at port about once a day.
For more details Google 'Alaska Marine Highway'.