With the 1190 Adventure R, KTM launched themselves into a class of their own. This beefy V-Twin dual sports tourer is geared towards off road riding, at which it absolutely excels at. Few bikes in the category can match the 1190 Adventure R in the dirt.
A bundle of features enable you to ride fast and hard, no matter the conditions. You'll feel glued to the track, and if you need to stop suddenly, there will be minimum drama. The traction control has 4 settings, and keeps you swinging through those tight corners in sand, mud, gravel, tarmac or even water. Of course, you can turn the TC off and do it your way. With amazing power, it hides its weight well and handles fantastically.
While this is very much a bike for those adventurers looking to hit the harder trails, it is quite capable on the tarmac as well. Comfortable and smooth, with the right tyres this is a bike that'll take you around the world in every possible way. It is however, aimed at more experienced riders. Off-road newbies will struggle with the heavy weight, and even experienced riders will need to take some time to master the beast.
Key stats
Wet weight: 235 kg (518 lbs)
Seat height: 890 mm (35 in.)
Engine: Four stroke, 75° V-twin, 8-valve, DOHC
Power: 148 HP (110 kW) @ 9,500 RPM
Displacement: 1195 cm³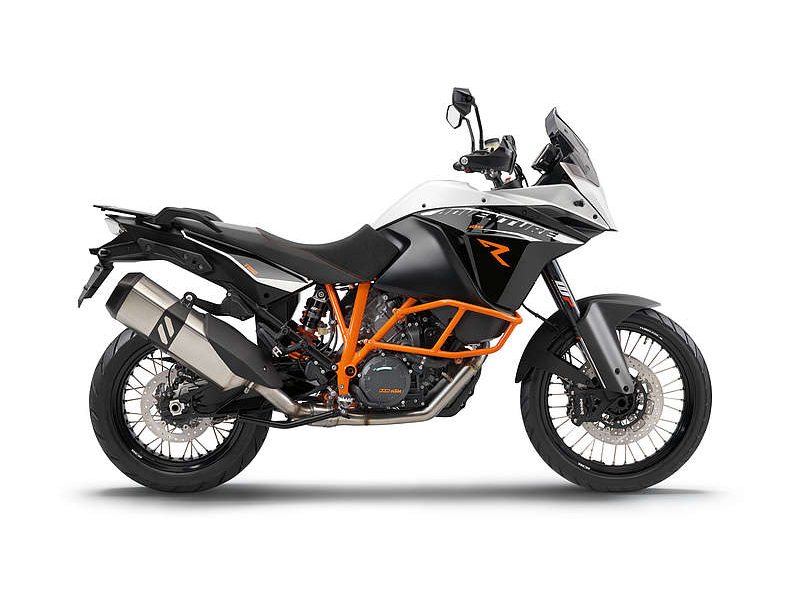 Why people like the KTM 1190 Adventure R
Excellent off-road capabilities.
A wide range of features such as traction control, switchable lean sensitive cornering ABS, adjustable windshield, tyre pressure monitoring system and much more. It's ready to go from the dealership.
It's powerful and handles well, and is comfortable to ride over a variety of conditions.
Excellent fuel economy, the 23 litre tank is suitable for desert riding.
More affordable than other rivals.
Why people choose other bikes
It's not very newbie friendly, and riders are advised to have some years of off road experience under their belts.
Road riders would be advised to search elsewhere, as the 1190 Adventure R really only comes alive in the dirt.
Common modifications
Air Box; The stock box is known for leaking and allowing dust and grit to reach your air filter. It doesn't take long for the filter to become clogged, essentially stopping your engine in its tracks. A Uni Filter is a good replacement.
Skid Plate; The bottom of your engine is exposed to rocks, curbs and crashes, which can cause problems when riding on and off road. A decent Skid Plate will keep everything safe, Black Dog Cycle Works (BDCW) produce one especially for the 1190 Adventure R.
Radiator Guard; Another essential mod, especially for adventure riders. Again, the BDCW guard is made especially for this bike.