Motorcycle touring in Georgia rewards you with astonishingly diverse landscapes–from green valleys filled with vineyards to old structures perched in the mountain scenery. No wonder it's the most visited country in South Caucasus.
Whether you make Georgia your only destination or are riding overland from one of its neighbouring countries, you are sure to have a unique experience here. You will pass interesting landmarks and winding rivers. And of course, don't forget to visit its major cities for the history and architecture.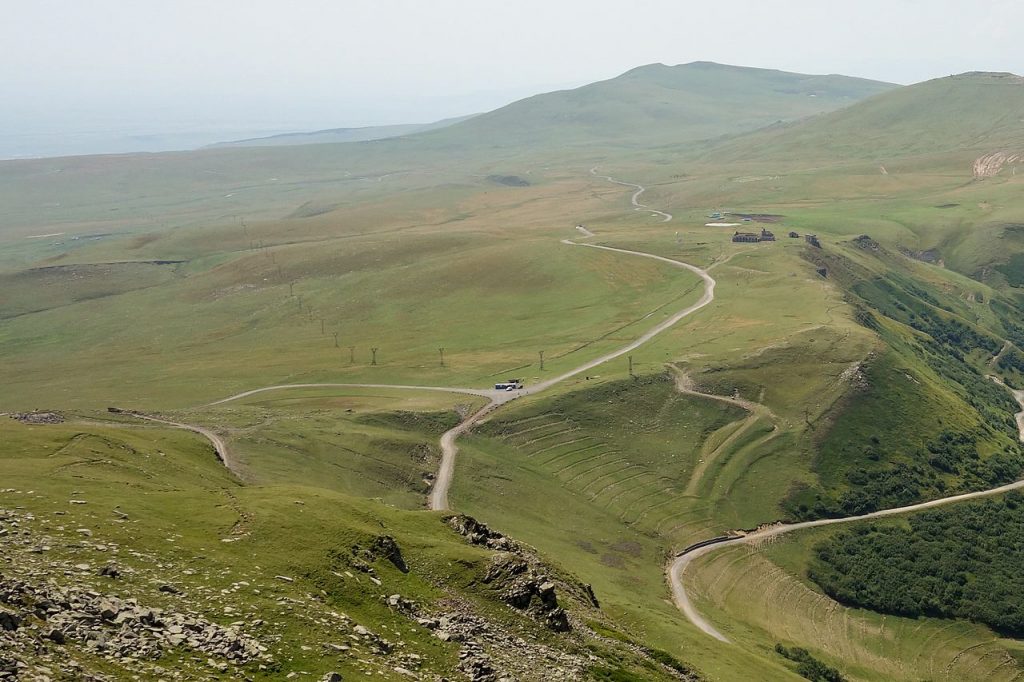 Top Adventure Riding Routes/Destinations in Georgia
M-20: Ghado – Bakuriani via Tskhratskaro Pass
This 32.2-kilometre long route features the Tskhratskaro Pass in the Trialeti mountain range, which is at an elevation of 2.471 metres above sea level. While this route may seem short, make sure that you have enough fuel and food anyway, as you won't be passing by any petrol stations and shops until you reach Bakuriani.
E-691: Batumi – Akhaltsikhe – Akhaljkali
Riding from the second largest city of Georgia to Akhaltsikhe and ending in a town near the border shared with Turkey and Armenia includes a 40-kilometre dirt road at high altitude. This route offers a great view of the Minor Caucasus. You'll get to pass interesting structures like the ruins of Chikhorishi small church, Khertvisi Fortress, and Akhaljkalaki Castle.
Telavi – Tbilisi
The ride from Telavi, the main city and administrative centre of Kakheti, to Tbilisi, Georgia's capital, is on a mountain pass with a well-paved road and great scenery. Before you leave Telavi, be sure to visit the Telavi State History and Ethnography, Cholokashvili Street (one of the oldest streets in the city), and Batonis Tsikhe Castle.
Zugdidi – Mestia
The Alpine road between the city of Zugdidi and the highland daba (or townlet) of Mestia offers a lot of scenery and amazing landscape. But take care in blind curves and watch out for cows and other farm animals. While in Mestia, you can go to Ushguli, one of the highest settlements in Europe and a UNESCO World Heritage Site.
Kazbegi, Georgia – Vladikavkaz, Russia via Georgian Military Highway
Georgia shares its borders with several countries. If you're planning to overland to Russia, this is the only route you can legally take. Be prepared to be questioned by Russian officials when you reach the border. Before you leave the townlet of Kazbegi, feel free to explore and see the Gergeti Sameba Church.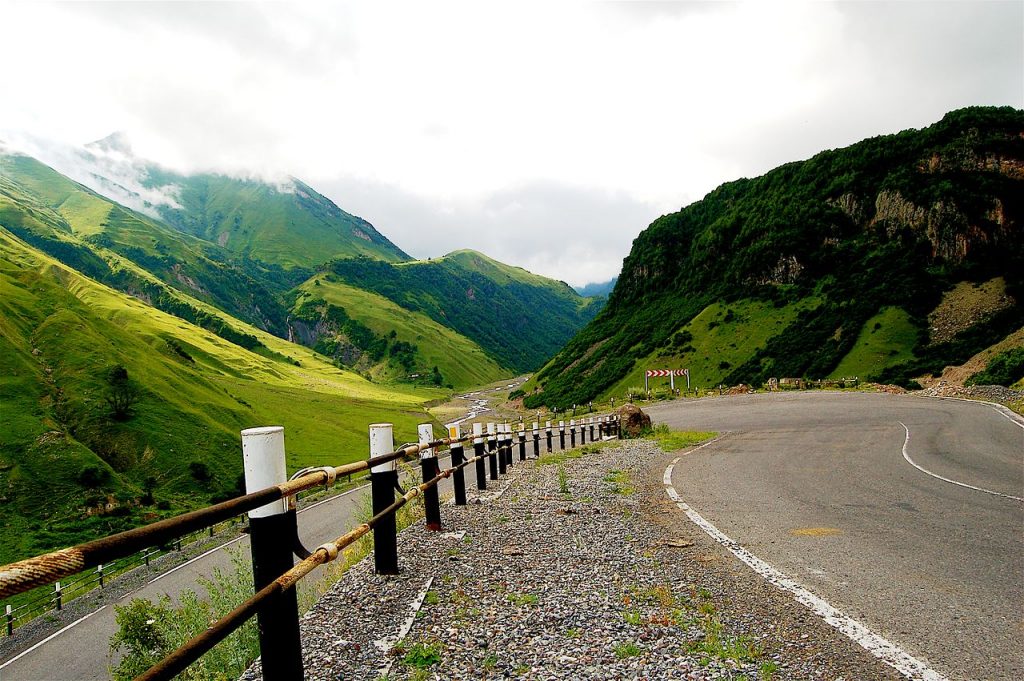 E-70: Sarpi, Georgia – Sarp, Turkey
The best route when riding from Georgia to Turkey is by riding down the E-70, which goes along the coast of the Black Sea. Feel free to stop at Sarpi, a border village of Georgia, in case you need a place to eat or rest, or just want to hang out at the beach for a while.
E-691: Ninotsminda, Georgia – Bavra, Armenia
Riding through Georgia is the only way to reach Armenia by land, as borders shared with Turkey and from Azerbaijan are closed. You will pass by Ninotsminda and the border village of Zhdanovakani. Note that crossing the Armenian border can be strict; expect each of your bag to be opened and unpacked.
Lagodekhi, Georgia – Balakan, Azerbaijan via S5/Yevlakh-Zaqatala Georgia Highway
While there are two ways to get into Azerbaijan from Georgia, the S5/Yevlakh-Zaqatala Georgia Highway offers nicer scenery on the way to Baku, the capital of Azerbaijan. If you have recently travelled to Armenia, you'll likely be questioned about it by the Azerbaijani officials. Once you have crossed, you can ride to the beautiful city of Sheki.
Best time of year to motorcycle touring in Georgia
July to August
Since this is the middle of summer, it can be hot for riding in the cities, in which the temperatures can reach 40 degrees celsius. However, this season is the perfect time to ride in the mountains or along the Black Sea coast.
September to October
This two-month window is ideal for motorcycle touring in Georgia, especially for those who want to ride around the entire country. It's warm and sunny during the day, but it can get cold at night especially if you're just camping.
November to February
It's not recommended to ride in Georgia during the winter season as temperatures can drop to below the freezing point. Severe weather conditions can also cause roads (especially up in the mountains) to be impassable.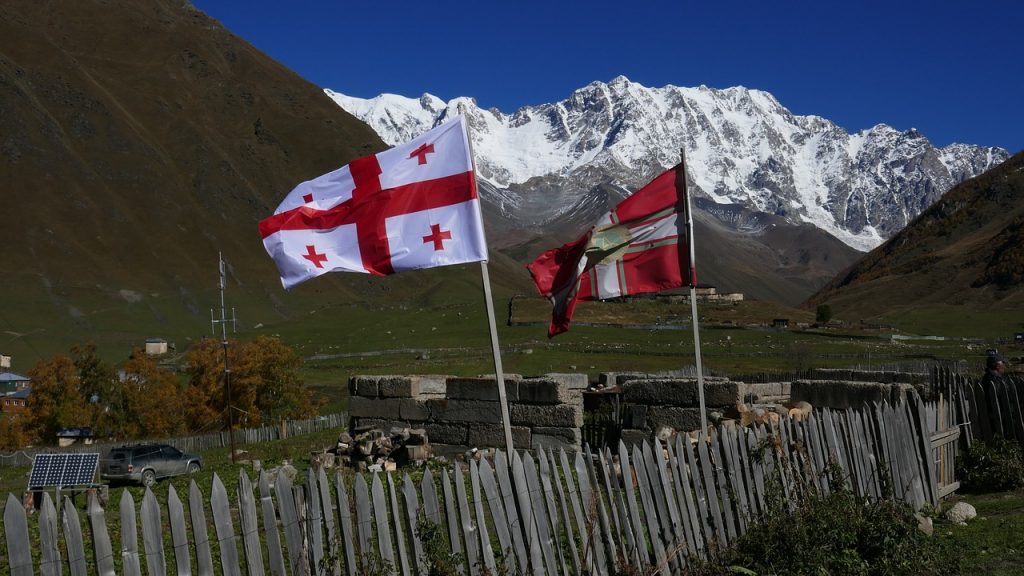 Getting your bike to/from Georgia
Overland/Ferry – Border entry points
Georgia shares its borders with four countries: Turkey, Armenia, Azerbaijan, and Russia.
From Turkey, you can choose among three border crossings. The first is between Sarp, Artvin and Sarpi, Adjara; the second is between Posof-Turkgozu, Ardahan and Vale, Samtskhe-Javakheti; and the third is between Cildir-Aktas, Ardahan and Kartsakhi, Samtskhe-Javakheti.
From Armenia, there are also three border crossings open. Bagratashen to Sadakhlo is the main road between Tbilisi and Yerevan. The road between Gogavan and Guguti features a mud track in a beautiful beech forest in the final 13 kilometres on the side of Georgia. Meanwhile, the road from Bavra to Ninotsminda ensures a hassle-free ride.
From Azerbaijan, you can get to Georgia via two routes. The first is via the "Red Bridge" on the road from Ganja to Tbilisi, and the second is the road connecting Balakan and Lagodekhi.
Lastly, the only way to reach Georgia from Russia is by going through Verkhny Lars on the Georgian Military Highway, which connects Vladikavkaz and Kazbegi.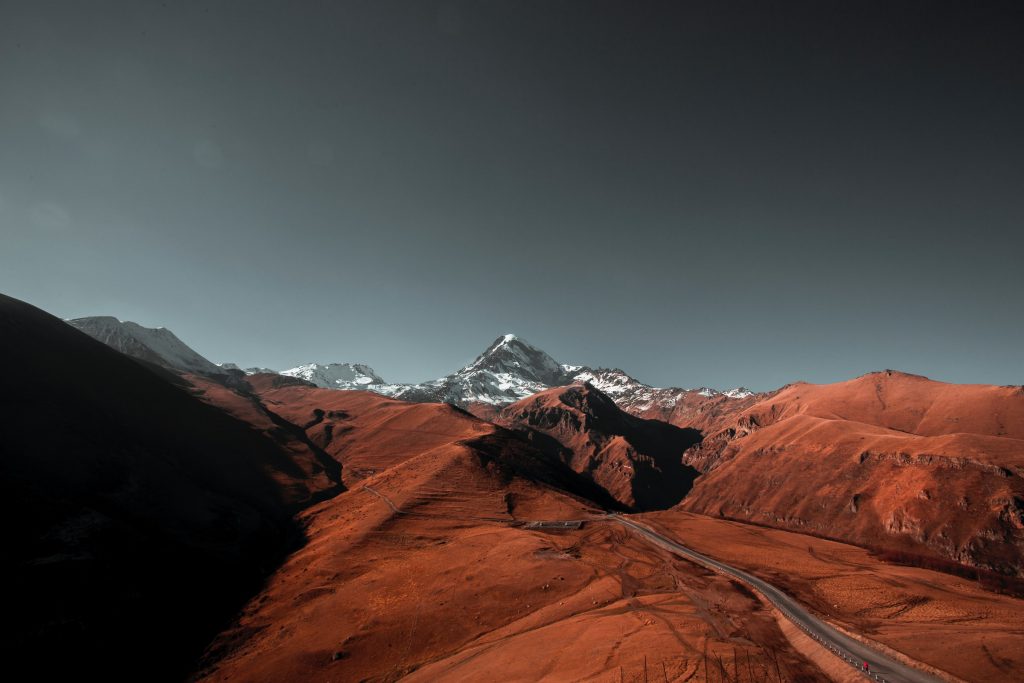 Liability Insurance
Having insurance for your motorcycle is compulsory in Georgia. If you're not able to organise this with your insurer before you leave, you can buy the necessary insurance at the border.
Bike Permits, Carnets
To legalise the temporary import of your motorcycle into Georgia, you need to submit an import permit–which you can sort out at the border–and a bank guarantee for the amount of VAT (18%).
If you're having your motorcycle shipped, the shipping company you're working with must notify the customs office in Georgia 24 to 48 hours before the arrival of your vehicle.
Carnets are not needed in bringing your bike to the country.
Registration/Ownership Documents
Aside from the bike permit, you also need to show the following documents:
A clear copy of the title deed of your motorcycle
Vehicle purchase invoice, with details on your motorcycle's engine capacity
Bill of sale
Registration documents
Your passport/photo ID
Getting yourself to/from Georgia
Airports
Georgia has three international airports: Batumi International Airport, Kutaisi International Airport, and Tbilisi International Airport. The one in Tbilisi is the busiest, with over 3 million passengers served in 2019.
Flight times & costs
The cost and flight times displayed below are based on return flights to Tbilisi as of May 2021. Note that actual airfare may depend on the season and how far ahead you book from your desired travel dates.
| | | |
| --- | --- | --- |
| Origin | Flight Time | Airfare cost |
| London | 7h 13m | Around £245 |
| New York | 13h 40m | Around US$ 832 |
| Los Angeles | 16h 53m | Around US$ 888 |
| Toronto | 14h 43m | Around US$ 1,029 |
| Vancouver | 18h 40m | Around US$ 1,204 |
| Auckland | 29h 53m | Around US$ 1,769 |
| Melbourne | 27h 23m | Around US$ 2,087 |
Passports and Visas
US citizens don't need to get a tourist visa if they're visiting for 365 days or less. Their passports must be valid at the time of entry, and one blank page is required for the entry stamp.
UK citizens don't need a visa to enter Georgia for visits of up to one year. Their passports just have to be valid for the duration of their stay in the country.
EU citizens don't need a visa if they're staying for up to one year.
Meanwhile, citizens of other countries not mentioned can check out the website of the Ministry of Foreign Affairs of Georgia for details.
Where to stay in Georgia
Camping
Because Georgia is filled with beautiful natural wonders, it's also one of the best places to camp. As a free-camping paradise, you can pitch your tent almost anywhere you want, but if you want to be somewhere more secure, you can find campsites that charge from GEL 65 / EUR 16 / £14 / US$ 19 per night.
Hostels & Guesthouses
Hostels are perfect for motorcycle travellers on a budget. If you're planning to stay in one, be prepared to socialise as these accommodations offer opportunities for you to meet other guests from around the world.
If you're willing to sleep in a dorm-type room, staying in a hostel can be cheaper than in a campsite, with costs starting from GEL 62 / EUR 15 / £13 / US$ 18 per night.
Hotels
If you want more privacy and comfort and have a bigger budget for your accommodation, there are hotels all over Georgia that can meet your needs. The cost of staying in a hotel starts at GEL 239 / EUR 58 / £50 / US$ 70 per night.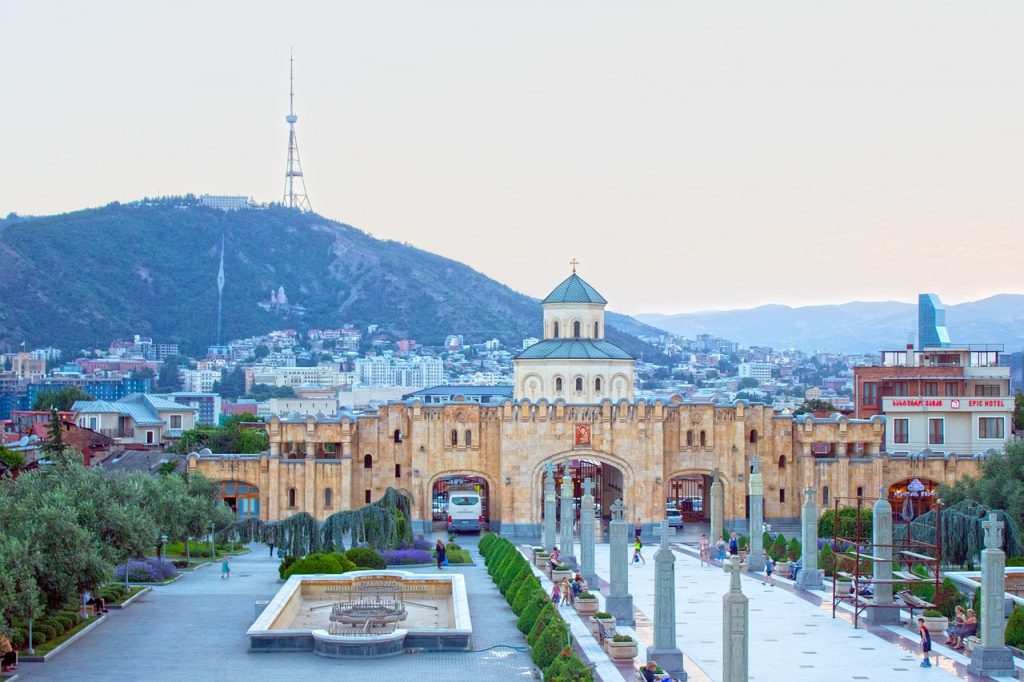 Budgeting for motorcycle touring in Georgia
Georgia is an affordable place to travel. Here are some expenses to expect based on an eight-day trip, with seven days on the bike (airfare not included):
Getting to/from the airport:

Bus = GEL 1 / EUR 0.24 / £0.21 / US$ 0.29
Private transfer = GEL 137 / EUR 33 / £28 / US$ 40
Taxi = GEL 60 / EUR 14 / £12 / US$ 18
Train = GEL 1 / EUR 0.24 / £0.21 / US$ 0.29
Bike rental:

BMW F650 GS = GEL 2,471 / EUR 595 / £512 / US$ 723
Honda CRF1000 AS = GEL 4,069 / EUR 980 / £843 / US$ 1,190
Suzuki V Strom 650 XTA (ADV) = GEL 2,906 EUR 700 / £602 / US$ 850
ccommodation:

Camping (own gear, no electricity, wild camping) = GEL 0
Camping (rented tent, sleeping bag, mat and stove, with electricity) = GEL 455 / EUR 110 / £95 / US$ 133
Hostels (dorm) = GEL 280 / EUR 67 / £58 / US$ 82
Hostels (private dorm) = GEL 1,221 / EUR 294 / £253 / US$ 357
Hotels = GEL 1,673 / EUR 403 / £346 / US$ 489
Fuel:

BMW F650 GS (17.30 litres) = GEL 352 / EUR 85 / £73 / US$ 102
Honda CRF1000 AS (24.20 litres) = GEL 492 / EUR 118 / £102 / US$ 142
Suzuki V Strom 650 XTA (ADV) (20.06 litres) = GEL 408 / EUR 98 / £84 / US$ 118
KTM Six Days 450 (8.50 litres) = GEL 173 / EUR 42 / £36 / US$ 50
CF Moto MT 650 2019 (18 litres) = GEL 366 / EUR 88 / £76 / US$ 106
Food (moderate spend and no booze): GEL 119 / EUR 29 / £25 / US$ 35
Access to Money
You can find ATMs in main cities and there are plenty of banks that offer currency exchange. However, if you're going to remote areas make sure to stock up on cash beforehand, as ATMs will be less common.
You can use credit cards in larger establishments, so you don't have to fully rely on cash while you're here.
Fuel (access and quality)
You can find fuel stations in large cities and even in mountain regions, most of which are open 24/7. They mostly sell unleaded petrol and diesel, but bigger stations also offer leaded petrol.
To make sure you get high-quality fuel, buy from network stations such as Lukoil, Gulf, Socar, Wissol, and Rompetrol. You can also observe where taxi and truck drivers go to refuel, as they are the ones who usually know which stations have high-quality petrol.
As of May 2021, fuel in Georgia (per litre) costs around GEL 2.905, EUR 0.698, £0.60, US$ 0.841.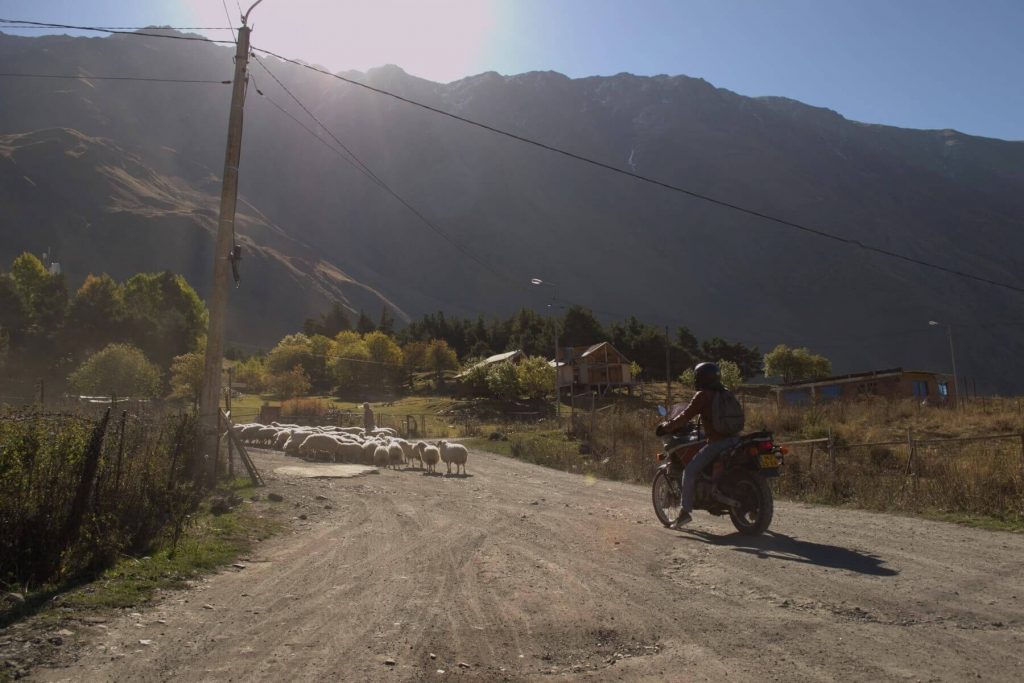 Road conditions and other considerations
Georgia's road network consists of 1,603 km (996 mi) of international highways that are in good condition and 18,821 km (11,695 mi) of national and local roads in poor condition. However, these roads are continuously being expanded and improved.
Driving is on the right side of the road. The speed limit is 60 kph (37.28 mph) in cities and towns and 110 kph (68.35 mph) everywhere else. Roads are equipped with speed camera radars.
You won't encounter any tolls. In the cities, paid parking is signified by white lines.
Local drivers tend to create new lanes and ignore turn signals, but they do follow the traffic lights. They also leave very little space around vehicles. Aside from the drivers, many pedestrians cross the street regardless of traffic or road markings. So make sure to ride defensively.
Avoid riding at night as most of the roads outside the cities are not only in poor condition surface-wise, but they are also badly lit. Expect to encounter livestock on the road. You might also find confusing road signs, or you might not even find any markings where there should be.
Lastly, Georgia has zero-tolerance toward drunk driving, so avoid riding even if you think you've only had a bit of alcohol. Also, don't use your mobile phone while riding as this is strictly prohibited.
Any other hints/tips for motorcycle touring in Georgia
The police in Georgia are citizen-oriented and are trusted by the public, so don't be afraid to ask a policeman for help.
You cannot visit Abkhazia and South Ossetia from the Georgian side of the border. If you wish to visit these places, you need to first cross the border to Russia.
One of Georgia's pride and joy is its local wine, so make sure to sample a glass when you can.
A must-try Georgian food: khachapuri, which is a boat-shaped bread stuffed with cheese.
History buffs have a lot to learn about Georgia. Take time to visit historic landmarks and ancient structures that you pass by during your ride.
Motorcycle Tours in Georgia
Whether you are looking for a guided tour, self-guided tour or motorcycle rentals in Georgia, Yellow Yeti Travel can help organise your trip for you. We can also put together tailor made trips to suit your budget and travel preferences. Find out about our motorcycle tours in Georgia at Yellow Yeti Travel.
Advice & Inspiration for Motorcycle Touring in Georgia
Check out our blog for articles on our experiences in adventure riding in Georgia, read our general Adventure Motorcycle Touring Guide.