Whether you are looking for a gravel adventure or would prefer to keep both wheels firmly on the tarmac, motorcycle touring in Iceland is an amazing experience that will at times take you out of this world.

The top riding routes and destinations in Iceland
For intrepid motorcycle travellers, Iceland's treasures can be accessed by riding Route 1, aka the Ring Road. Volcanoes, glaciers, icebergs and waterfalls are just some of the sights on offer. Riding the circumference of pretty much the entire country, you're likely to want to stop off every five minutes to get a better look at the stunning scenery. Find out more >>
F-Roads
The mountain roads, so called F-Roads, are a fantastic highlight of Iceland. They consist of everything; old tarmac roads, gravel roads, sand roads, fine rocks, big boulders, mud, dried up riverbeds, lava, fine lava sand, roads which are also rivers and everything in between. Sometimes you would be driving a road that starts as 'normal' gravel road, which has sections of fine lava sand and big boulders, crossing rivers, very rocky surface all on the same road. Plus there are a lot of river crossings in some parts of the country, small and enormous rivers. Be aware though that most motorcycle rentals in Iceland do not allow you to ride on these roads unless you are accompanied by a guide. Also, these roads are only open for a few months of the year over summer.
Motorcycle Tours in Iceland
Looking for a motorcycle holiday in Iceland? We're now offering a range of guided and self-guided tours as Yellow Yeti Travel.
What to ride when Motorcycle Touring in Iceland
The big question with motorcycle touring in Iceland is whether to take your own bike, rent a bike or do a tour. In all honesty, whichever way you go it's going to be expensive:
Taking your own bike can be costly and time consuming, but it can be done. Currently there is only one vehicle ferry operating. Smyril lines sail weekly from Denmark and the Faroe islands to Seyðisfjörður in the east of Iceland (about 8 hrs ride fromReykjavik). The cost at the time of writing is around €1000 for two people and one motorcycle sleeping in the cheapest accommodation.
Another option is to have the bike shipped and fly out a week later to arrive at the same time. This is cheaper and often a lot less hassle.
If taking your own bike isn't so important, motorcycles can be rented in Iceland. Rates vary, but rental of a 600cc BMW can cost anywhere between €230/£205/USD$260 per day for a Suzuki V-Strom DL650 or Kawasaki Versys 650LT, and €315/£280/USD$357 per day for a BMW1200GS.
Accommodation
Traveling in Iceland is a magical experience and it's an excellent place to get in touch with nature. Camping is highly recommended and is made easy with wild camping being legal (as long you dan't stay on someones property or within 150 meters of it). Nature offers many fantastic places to pitch up a tent and the view in the morning will be breathtaking. There are also a great many campsites located along the route, complete with all the facilities needed for a comfortable stay.
If the weather isn't so kind or you're looking for a sturdier shelter, there is no shortage of hotels, guest houses or hostels. Hostels offer an affordable alternative to the more expensive hotels and can be found at convenient stages all along the route. While there are lots of options if you book early, it must be said that Iceland is an extremely popular place to travel these days, with a short summer (peak season), so accommodation fills up quickly.
Whether you are planning to go on your own or do an organised motorcycle tour, it is well worth booking as far ahead as possible (ideally six months before) to ensure you are able to secure rooms and/or a bike.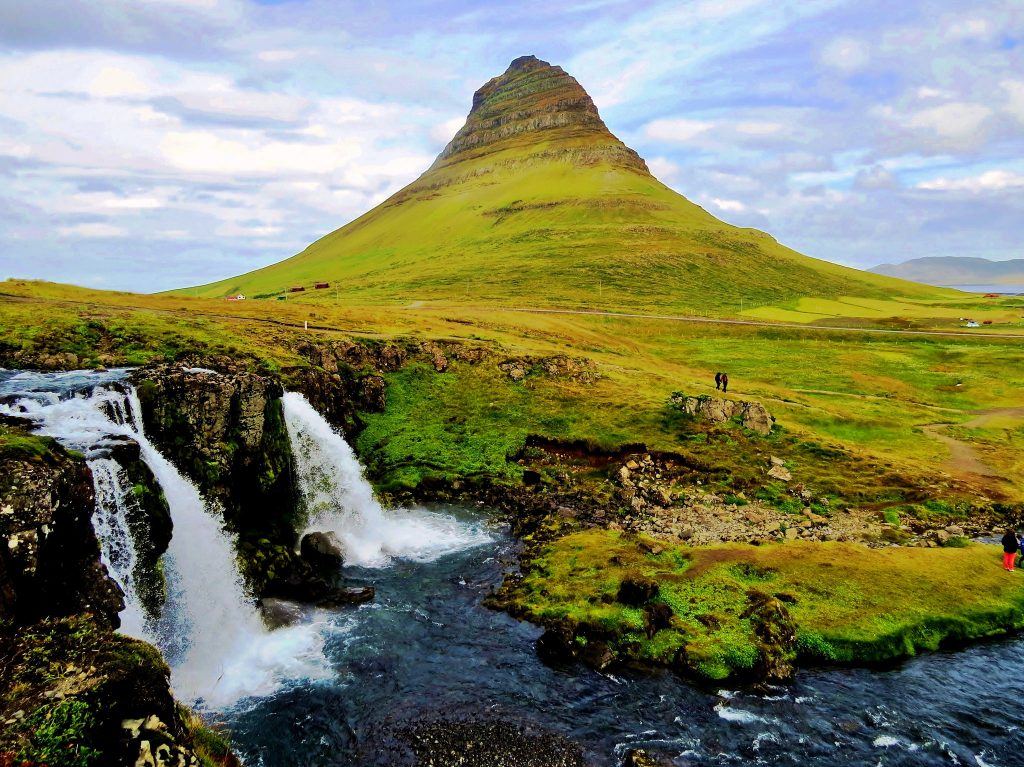 ---
Food
There are several delicacies to look out for along the way, with Iceland offering some unusual and delicious food. Petrol stations offer simple food, but be on the look out for the hotdogs available at most fuel stops. These are quick and delicious snacks to keep you going on the road. Try them, you'll be surprised, but be sure to ask for fried onions.
Seafood and lamb are popular dishes and are found on most menus. Dried fish is readily available and makes a tasty treat to snack on like a local. Finally, you may have heard of the tradition of eating fermented shark in Iceland. Hákarl is something new and different, though you may want to hold your nose the first time you have it. Washed down with a shot of brennivin, a local spirit, it's not so bad!
---
Best time of year for Motorcycle Touring in Iceland
The best time to visit is between May and October with snow being less likely. The weather is capable of changing rapidly and frequently and a sunny day can soon turn to mist and rain, or even snow! Strong winds can also hinder your ride and care should be taken. Be sure to pack wet weather gear and be prepared for downpours. Note: the weather in Iceland can be extreme at any time of year and all care should be taken to stay on the right side of it.
---
Fuel, road conditions and other considerations
Not long ago fuel was rather hard to come by in Iceland. However, recently more fuel stations have appeared along the ring road. Petrol can be found in all large towns as well as along the route. There are some longer stretches without fuel in the east. It's worth filling up more frequently than normal, just in case – especially if you plan to go off the beaten track. For more information on road  and weather conditions, check out this site.
A word on costs … Iceland is one of the most expensive places in the world to travel, particularly on a motorcycle. It is amazing and you will have a great time, but it will definitely cost you more than you are used to.
---
Shipping your bike to/from Iceland
Iceland is in the middle of nowhere and often hard/expensive enough to get yourself there, let alone a bike. Unless you would like to go for an extended period of time it is recommended that you rent a motorcycle in Iceland, or take a guided tour, rather than take your own.
If you do want to get you motorcycle to Iceland, then there are three main ways to do it.
Ferry from Denmark
There is a passenger/vehicle ferry run by Smyril Line that leaves from Hirtshals in Denmark, stops in the Faroe Islands and continues on to Seyðisfjørður in Iceland, arriving three days later. It runs weekly over low/mid-season and twice weekly in the high season (1 June – 18 August).  On board there are a number of accommodation options which will vary the price considerably. More on dates an prices for ferry to Iceland.
Fly with Iceland Air from UK or Belgium
Iceland Air offers a cargo flight service from EMA airport in the East Midlands, UK and LGG airport in Lieges, Belgium, to Reykjavik. There are a number of scheduled flights each week and their site helps you with all of the process around importing and exporting the vehicle. More info on their website.
Cargo ship from USA and Canada
Eimskip offer a cargo ship services from Portland, Halifax and Argentia, to Reykjavik. Details on the site are vague and the rate request form for personal effects quote only appears to be in Icelandic, so worth getting in touch with regional offices for a quote (details in the map on their homepage). We will be looking more into this and will update this section shortly, but would love to hear from you if you have any experience with these guys.
---
Motorcycle Tours in Iceland
Find out about our motorcycle tours in Iceland at Yellow Yeti Travel.
---
Advice & Inspiration for Motorcycle Touring in Iceland
Check out our blog for articles on our experiences in adventure riding in Iceland, read our general Adventure Motorcycle Touring Guide.