Motorcycle touring in India has been gaining a lot of popularity lately and a lot of riders, on different kinds of motorcycles have been drawn to the immense diversity of terrain, climate and culture that can be found in this amazing country. Almost every corner in India has some marvel or jewel that one must witness, be it the Himalayas in the north, Tip of India in the south (Kanyakumari), Lush green forests and snow covered peaks in east to the white desert in Gujarat, in the west. A lot of these popular spots exhibit their character, history and culture in a very nostalgic manner. But, these places also offer riders a variety of terrain and weather conditions to ride on and makes you feel like you're on a real adventure. India is raw, so if you're looking to go motorcycle touring across the country, here are a few things to consider.
Top Routes and Destinations for Motorcycle Touring in India
Since there's so much to see, learn and unlearn on a motorcycle journey in India so unless you have all the time in the world it really does require some planning. Here are a few of our favourite places to ride in India.
The Great Indian Desert
Rajasthan is known for the Thar desert which also known as The Great Indian Desert. One can experience the vast expanse of sand in regions like Jaisalmer- Sam- Barmer and Bikaner. Winter is an ideal time to visit the desert which begins from November until February. If you're starting from Delhi, then an ideal route to reach the desert would be Delhi- Jaipur- Jaisalmer.


Photo credit: www.getridingyoubum.in
Kanyakumari
The last town at the tip of India is Kanyakumari. Since there isn't much to consider doing in this place, a one night stay is usually preferred. Watching the sun rise and set at the tip is something you should consider doing. Since it lies in the state of Tamil Nadu, an ideal route to consider would be Chennai- Madurai- Kanyankumari. October to March is a preferable time to visit since summers and monsoons get quite intense.
Munnar
One of the greenest hillstations in India, Munnar lies in the state of Kerala and it known for its twisted roads covered with a green canopy. Munnar also contains wildlife protected areas around it, a habitat for species like the Giant Indian Squirrel, Elephants and Indian Gaur. The town remains cool throughout the year and easily accessible from cities like Cochin.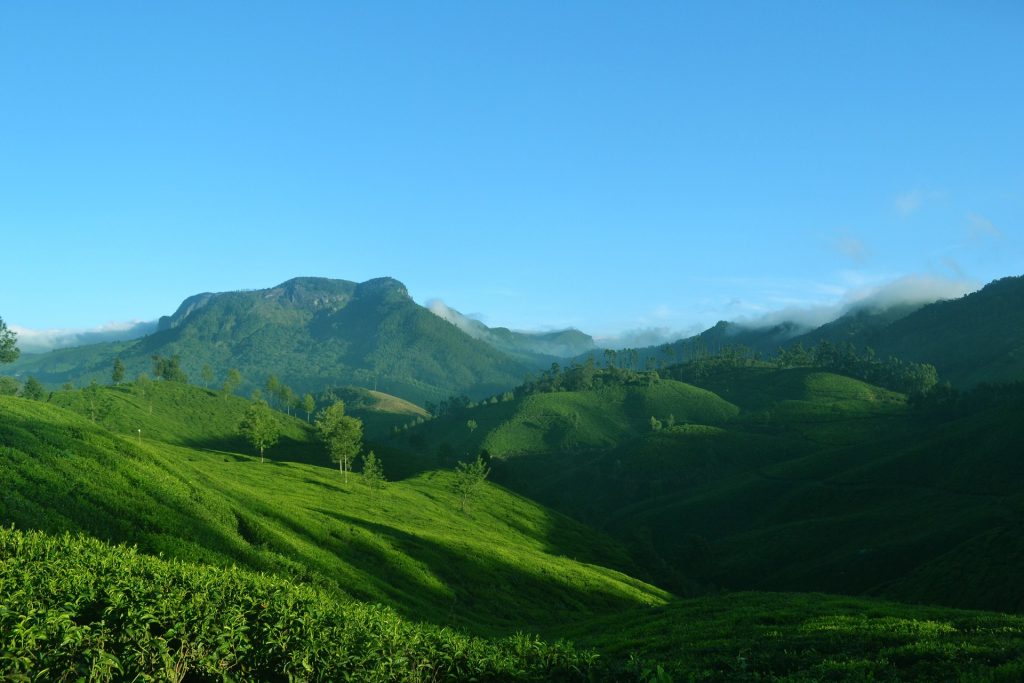 Eastern Himalayas
The towns of Darjeeling and Sikkim allow you to witness high snow capped peaks like that of the Kanchenjunga mountain. With a mix of green cover, snow and twisty roads, this is one road trip you should really consider. The best route to consider on this journey would be Siliguri- Darjeeling- Kalimpong- Gangtok- Yuksom.

Rann Of Kutch and GIR sanctuary
Known as India's largest salt flats in the state of Gujarat, the lesser and greater Rann of Kutch mainly comprises of seasonal salt marsh land with parts of arid, broken land that sometimes offer a highly different type of riding experience. You could ride fast in the dry region but it is important to be wary of extremely soft patches where traction could be easily lost. If you're looking out to camp under the starry sky, witness migratory birds and get some shots of your motorcycle on the 'white surface', this is the place to be in. GIR forest is the only place in the world where Asiatic Lions are found in the wild. A night's stay in the forest resort and two jeep safaris are highly recommended. The ideal route for this trip would be Ahmedabad- Rann of Kutch- Rajkot- Gir.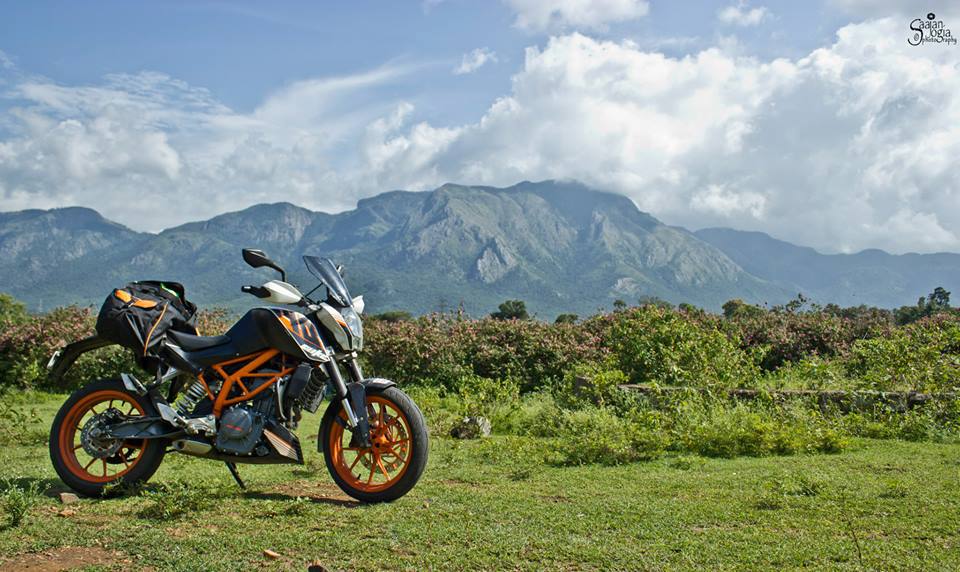 Photo credit: www.getridingyoubum.in
Bangalore to Ooty
Bangalore to Ooty is one of the most preferred destinations for riders looking out to do a wide range of things like trekking in the jungle, photographing wild birds or just chilling to the sounds of deer calls, especially since it is only 6 hours away. The route to Ooty from Bangalore goes via Mysore, another bustling city witnessing rapid development and growth. After crossing Mysore, the route passes through the scenic Bandipur and Mudumalai Tiger reserve, once could stay in the either of the forest resorts for a night before moving onto Ooty. The most ideal route to Ooty would be: Bangalore- Mysore ring road approach- Mudumalai Tiger reserve- Ooty.
Planning your Ride
Motorcycle touring in India gets done fast because you're having a lot of fun but primarily because time passes too quickly in India. India is a busy place to be in, so even before you've clocked about 400 miles, you may witness the sun bidding you goodbye. It's always better if you start out early and stop early. Riding in the night is never advisable in India as there are a lot dangers that one may have to face. Rather, plan your tour in India in a way where even a few days of a set back could be affordable.
Paperwork
The cops and Government agencies aren't too annoying when it comes to motorcycle touring in India but it's always recommended to be safe than sorry. Many of the officers do ask for bribes so it is best to know the rules beforehand to avoid paying them unnecessarily. Carry all possible ID proofs with you and at least a couple of Xerox copies of them. You'll need to have copies of your passport, International Driving permit which you could use to ride in India, Motorcycle insurance policy papers that covers damages to motorcycle and third party liabilities. Also consider having with you your travel health insurance policy papers and Carnet documents. A Carnet is a passport for your motorcycle and is required to enter India. It can be obtained from the approved Automobile Association of your country for an amount that has been set by the association. On arrival in India, you are required to contact Indian Customs at the port and fill up the requisite form. The officer would then inspect the carnet details and check if they match the details and registration of your motorcycle before endorsing the carnet. At the same point, you will be required to to re-export the motorcycle after the permitted period of six months. Failure to re-export will be treated as smuggling offence and will attract severe penalty.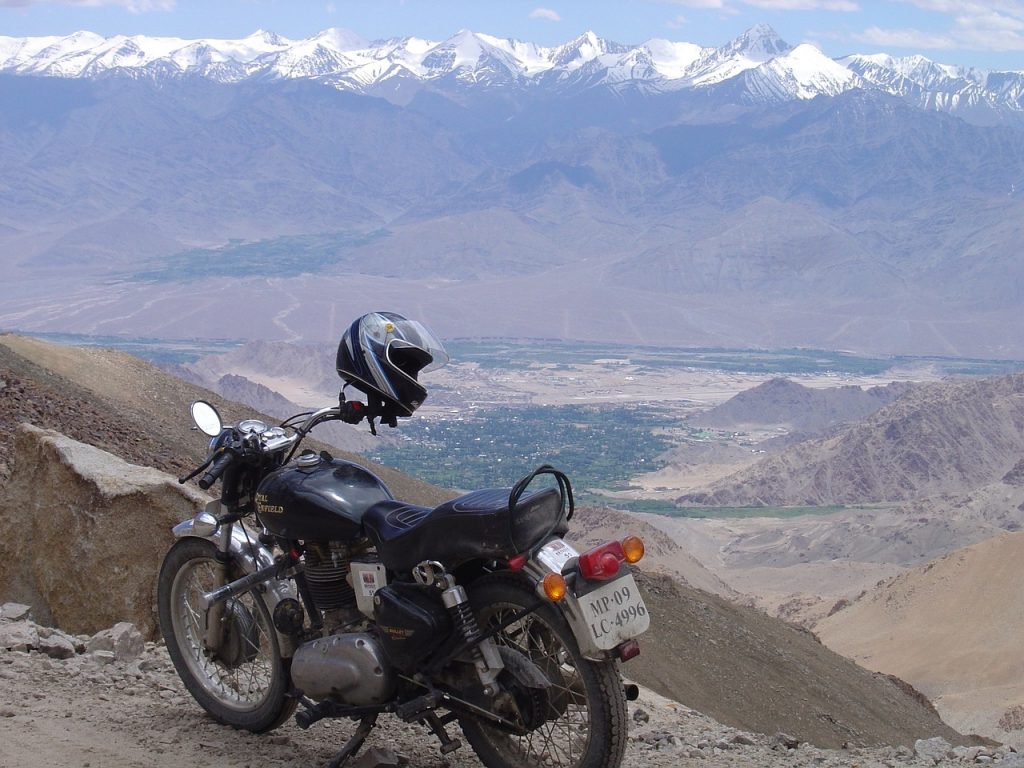 Health
India is generally a hot country to ride in and you will lose plenty of water through sweat. Carrying water in a hydration backpack is the best way to keep yourself hydrated with fluids when motorcycle touring in India. It is also advisable to carry glucose powder, packed food, dry food and chocolates. Eateries are available in plenty on Indian roads but if you do decide to hit the trails for longer, stored food would be highly ideal to regain energy.
Courtesy: www.getridingyoubum.in
Bike Preparation & Gear
Textile and mesh motorcycle gear is always recommended for motorcycle touring in India. India is a hot and humid place to be in, unless you're riding through areas like Ladakh or through the desert of Rajasthan in winter. In terms of your bike, dual sport tyres are a great choice for trips across India, which consists a mix of tarred roads and Off road conditions. It is recommended that you know your motorcycle well in advance and learn how to fix minor issues. Do your research on Indian automobile forums like Team BHP or Hivayking to prepare a list of service centers that could specifically cater to your motorcycle. Such forums are also useful in receiving regular highway updates as well, being a part of one may save a lot of time you spend on researching about places.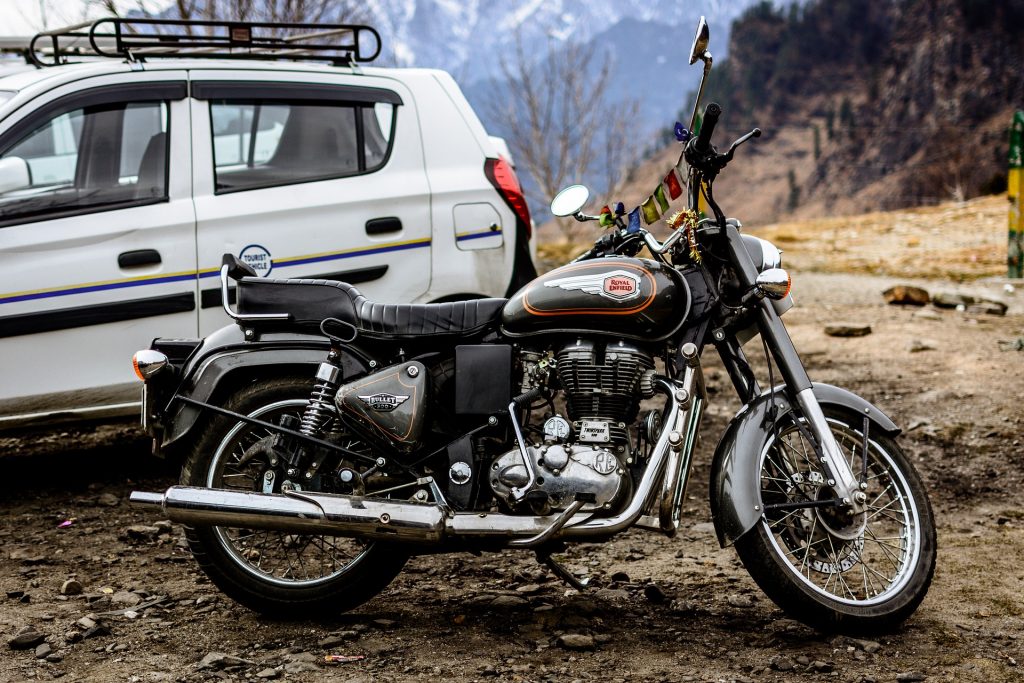 Royal Enfield – The bike of choice for many when motorcycle touring in India.
Roads and Traffic
National highways across India are mostly four lane smooth roads. Also known as the Golden Quadrilateral, the road networks connect major cities to Delhi, the capital of India while the State Highways link villages and cities to the the National Highways. You will find that the National highways to be in better shape than the State Highways but it is better to expect sudden surprises in terms of potholes and unmarked speed breakers. Overall road condition changes throughout the year, depending on frequency of traffic movement and unpredictable changes in weather conditions. That's one reason why you see roads broken after an early monsoon season. It is very important to remain wary of stray cattle and dogs on the highways, ride in a way where you'd expect a dog to suddenly dart across the road. Practicing that often would keep you alert.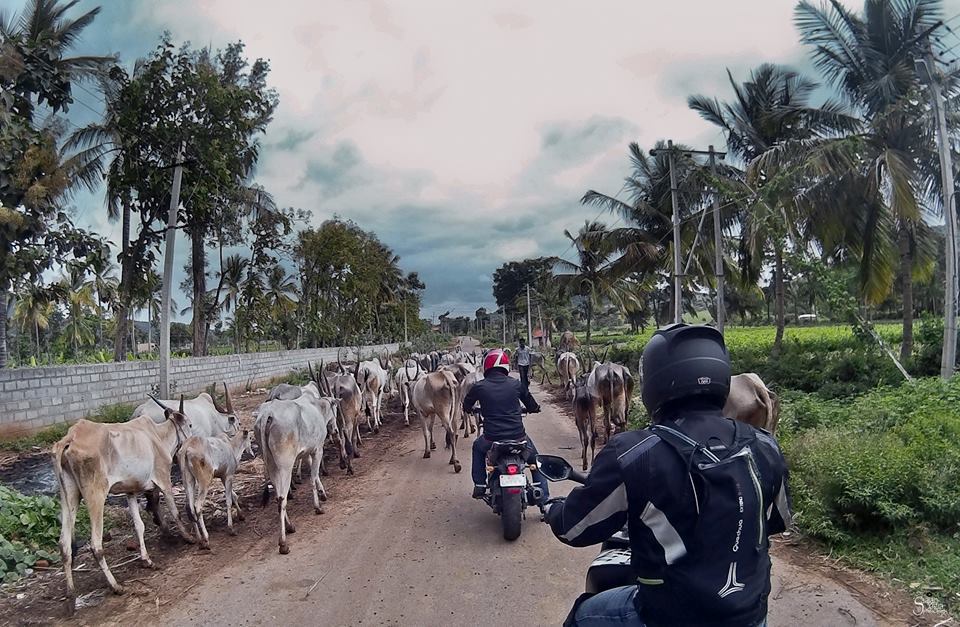 Local traffic conditions. Photo credit: www.getridingyoubum.in
Locals
When interacting with the locals in India, be kind but at the same time remain alert and assertive. People are mostly hospitable, helpful and curious so you may find them fiddling with your motorcycle, but request them once and they won't do it again. Add to the fun, explain to them about what you're doing if you're asked to many questions but at the same time, keep an eye out on your motorcycle in a subtle way. But otherwise, you'll have a lot of fun while interacting with them!
Advice & Inspiration for Motorcycle Touring in India
Check out our blog for articles on our experiences in adventure riding in India or read our general Adventure Motorcycle Touring Guide.
Motorcycle Tours, Rentals, Services & Destinations in India
Browse through our listings of motorcycle tours, rentals, services and destinations in India >>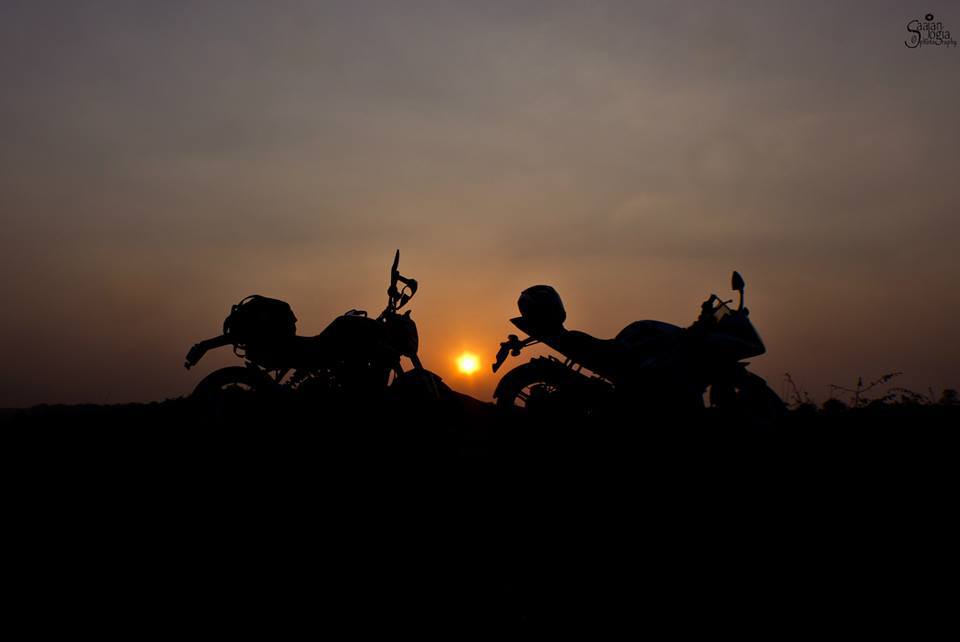 Photo credit: www.getridingyoubum.in