Our experience riding Alaska's Kenai Peninsula in 2011 …
Well, even though it seemed it would never happen, we did finally make it ashore in Alaska at Whittier. Quickly realising that there was absolutely nothing in this town to keep us there we jumped on the bikes to head to Seward.
What we didn't realise however was that in order to get out of this port town, we'd have to go through a 3km long tunnel that was only open to one way traffic, alternating every hour! So there we were at the front of the tunnel reading the huge list of specific precautions for motorbikes and a cop comes over. Turns out he was just hanging about to make sure that we all got through the tunnel safely and was very helpful, although he did talk up the tunnel a bit much, telling us of massive jet fans at each end that could knock us off. Of course no one had any dramas but it makes you wonder what had happened to others to cause them to take it so seriously! Safely through we were greeted by another semi-snowcapped valley with its own glaciers and even a small iceberg in a lake to our left.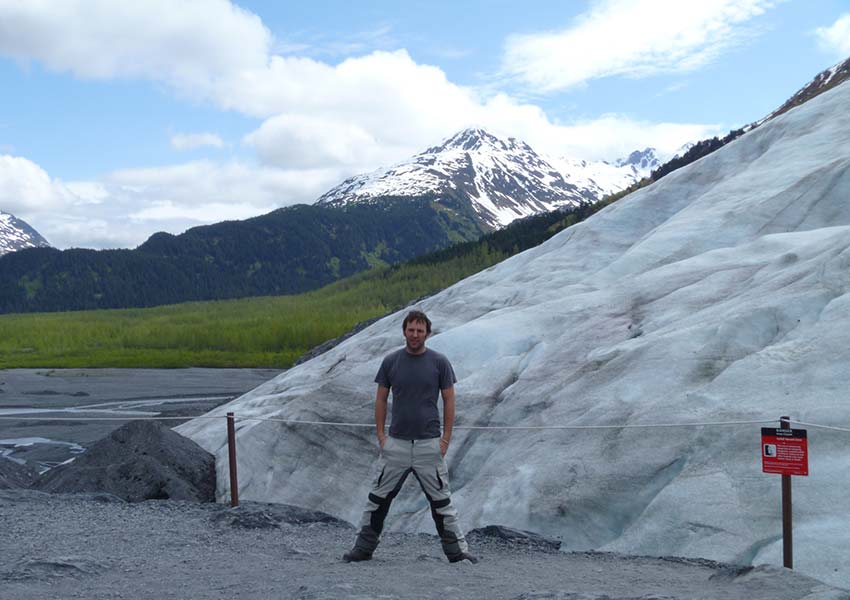 Cruising down the Seward Hwy, we arrived in the small fishing village of the same name and found a place to stay. Quite a picturesque little town, it is famous for its fishing and marine wildlife. Over the next couple of days we toured around, getting up close and personal with a nearby glacier (hiking up in our full riding gear, much to the amusement of the other tourists) and even venturing out on a wildlife cruise. Even though we'd been on the ferry for the last six days and being stuck on a boat for another half a day was the last thing on my mind, the cruise was well worth doing (and not just for the steak and salmon lunch they served). We saw sea lions, puffins, sea otters, bald eagles, mountain goats, porpoises and a couple of humpback whales. Such a high concentration of wildlife, it was a bit hard to believe.
Back on land it was time to go and check out Homer on the other side of the peninsula. The ride out there through the mountain and valleys was again really nice for the first part until a bit after a town called Cooper Landing and then it flattened out a bit and became more developed as the road wound its way around the peninsula to Homer. Homer was another small fishing town, most famous for its Halibut fishing (Halibut are weird looking bottom dwelling fish that can grow up to a couple of hundred kilos! Pretty good eating, very light flesh) and its spit, from where all of the charters head out. Its a quaint little town that looks over the bay at a barrier of huge mountains, including a volcano or two.
Pretty scenic, but there wasn't much happening and so after spending the night there, we decided to head back to Cooper Landing for our last night on the peninsula. The next morning it was time for us to head north and also time to farewell my mum who'd been touring with us for the last couple of weeks in Vancouver, on the ferry and around the Kenai Peninsula. It'd been a nice chance to hang out and do some touristy stuff, but it was now time for us to get some kms down.