The DL650 V-Strom first hit the road in 2004, introducing one of the best all-rounders to the mid-weight bike scene. This is a title it has proudly held onto over the years, as it effortlessly cruises into a top spot. Exceedingly popular, the V-Strom is easy to handle, well powered and well suited to long and short distance riding.
It's the ideal choice for road warriors looking to travel the world without hitting the dirt tracks too often. That's not to say it can't handle a bit of off roading, however, if you're planning to stick to the gravel, there are better choices out there for you. On the other hand, road riders will struggle to find a better companion, especially for the price tag.
The V-Strom offers a great bike at a budget price. Comfortable, powerful, smooth, nimble and adaptable, it's perfect for beginners and experienced riders alike. Newer models (from 2012) have ABS as standard and a slightly tweaked engine for an even smoother ride.
Key stats
Wet weight: 220 kg (490 lbs)
Seat height: 835 mm (32.8 in.)
Engine: 4-stroke, liquid cooled, 90-degree V-twin, DOHC, 8-valves
Power: 66 HP (49.2 kW) @ 8,800 RPM
Displacement: 645 cm³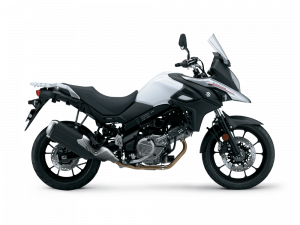 Why people like the DL650 V-Strom
Incredible price tag.
It's an extremely comfortable bike to ride, mile after mile.
Excellent fuel efficiency.
High quality, durable engine.
Superb handling.
Performs well in a variety of conditions, from highway riding to gravel tracks.
Easy to self-service.
Why people choose other bikes
Other bikes offer more features aimed at touring as standard.
The V-Strom is not ideal for extended off roading.
Other bikes perform better when riding 2 up.
Some riders are looking for more power.
Common modifications on the V-Strom 650
Screen: The stock is often too low for taller riders and buffeting can be an issue. A Givi Airflow Screen is an excellent replacement.
Tyres: The stock tyres don't do the bike justice, especially off road. Pirelli Angel GTs are a good alternative.
Centre stand: There is no centre stand fitted as standard.
Hand guards: Earlier models don't come with hand guards as standard, though later models do.
Mirrors: Replace stock with Aprilia mirrors to help reduce buffering.
Engine Guard: Essential for long distance riding.