The Suzuki DR650SE is one of the most economical and offroad capable adventure bikes around, with a single cylinder 649cc air-cooled, carbureted engine that just keeps thumping along. These bikes are light, torquy and great fun off-road, able to keep up with more dirt-biased dual sports (depending on the rider or course). They are super reliable and parts are cheap and easy to come by. They do require a bit of modification to get them ADV ready, but factor that in to the price and you are still getting great value for money.
DR650s are particularly popular in Australia, New Zealand, USA and Canada. EU emissions regulations mean that they are not sold new in Europe and any used bikes will have been imported.
If you are looking for an adventure touring bike that is more at home in the sand or rutted 4WD tracks than it is on the highway, then the Suzuki DR650SE is a great place to start.
Key stats:
Wet weight: 166 kg (367 lbs)
Seat height: 885 mm (34.8 in.)
Engine: Single cylinder, 4-stroke, SOHC, air-cooled with SACS
Power: 43.5 HP @ (32kW) @ 6400 RPM
Displacement: 644 cm³
Why people choose DR650SEs:
Reliable

Mechanically simple and easy to fix

Light

Extremely good off-road

Easy and cheap to modify to the type of riding you like to do – lots of aftermarket options, not just Touratech.

Learner rider approved in some countries.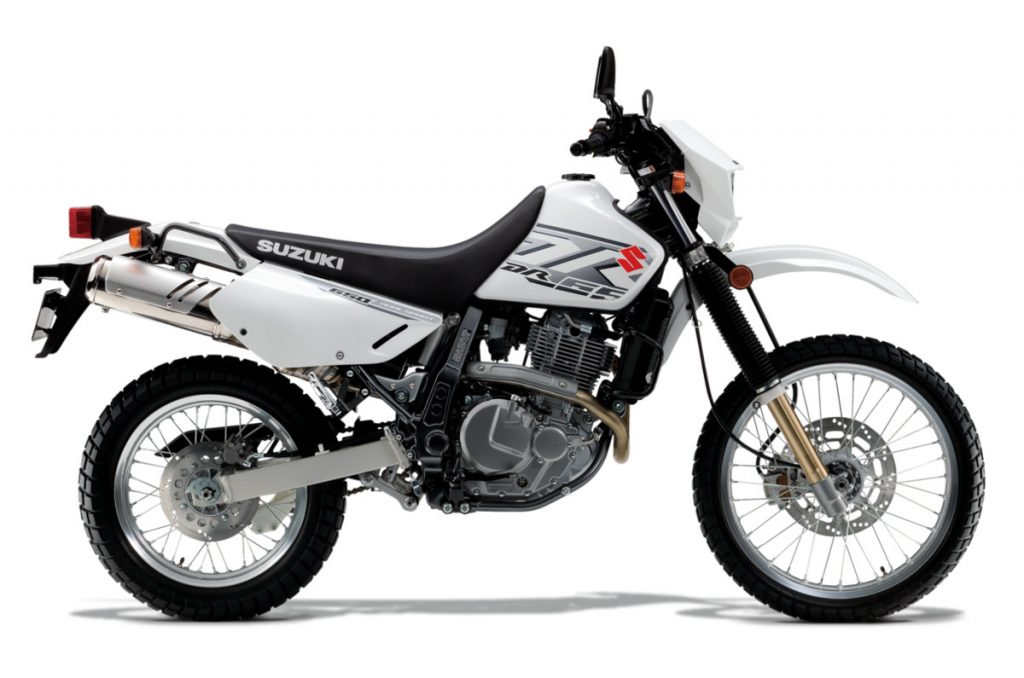 Why people choose other adventure touring bikes:
Preparing a DR650 for adventure touring takes time and effort. They are not ready straight off the shop floor.

Less power than bigger twins

Not suited to two-up touring

Not as comfortable on the highway.

Hard to find in Europe.
Some common modifications people make to their DR650s:
Bigger fuel tank – Safari 30 litre (8 gal), IMS 18.5 litre (4.9 gal) or Acerbis 20 litre (5.3 gal) fuel tank – the stock tank is woefully small and won't get you very far. The Safari tank is great, but very expensive and heavy when full. The Acerbis is a nice size and enough fuel for most trips.
Suspension upgrade – helps with the extra weight of luggage and fuel.
Driving lights – LED driving lights don't put too much strain on the limited electrical system and are a huge improvement on the weak stock headlight. Mine came from ProCycle in the States.
More comfortable seat – stock seat is built for standing on the bike, not sitting! Seat Concepts make a great seat that is good for both.
Tyres – Stock are dreadful. What you replace them with depends on your riding. Mitas E07s are a good all rounder.
Bashplate – all adventure bikes need one and there are lots to choose from. I have a B&B one (made in Australia).
Metal hand guards – Stock are plastic and don't protect your levers.
Windscreen – Makes things much more comfortable on the highway.
Luggage racks – soft or hard, you will need something. I used hard on a big drip down the Americas (for security), but really prefer soft and don't think that the security issue is much different either way.
Exhaust system and opening airbox – not at all required but quickly gives you a bit more HP.
Lowered and steel foot pegs – Makes it easier and more comfortable to ride standing.
Centre stand – makes servicing your bike a whole lot easier, although it adds a fair bit of weight. I choose to use a trail stand, but see the merit in them for sure.
Header pipe and exhaust – More HP and sounds great. Popular options here include FMF Powercore/Quad 4 or for bigger trips/less maintenance, a  Staintune system, like I have. Some people even use a modified GSXR system